About Talkeetna Air Taxi
The heritage of Talkeetna Air Taxi dates back to the early days of flying in Alaska. Today we continue to lead the way in exploring the Alaska Range and Denali National Park.
Talkeetna Air Taxi has expanded the meaning of expedition support for climbers to include logistical support, up-to-date route information and photos, unique base camp locations, mid-climb route checks, as well as remote and unclimbed peak information. Over the years we have worked with film crews and television networks such as National Geographic, the Discovery Channel, BBC, MythBusters, and Surviving Alaska.
Several notable aviators have previously operated Talkeetna Air Taxi, including: Lowell Thomas Jr., former lieutenant governor of Alaska and son of the famous radio broadcaster.
Paul Roderick is the Director of Operations for TAT. Paul is an avid climber and skier with ascents on Denali and many other peaks in the region. Paul is a seasoned pilot who has been flying in Denali National Park for over 25 years. He has accrued many hours of flying in Alaska and countless glacier landings.
Talkeetna Air Taxi is certified an Adventure Green Alaska tour operator. AGA is a voluntary certification program for tourism businesses operating in Alaska that meet standards of economic, environmental and social sustainability.
Team TAT
Team TAT is here to make sure you have the best flight experience possible. Meet some of our staff of pilots, mechanics, reservationists and ground crew to make it all possible.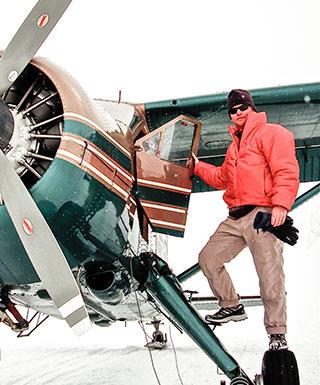 Paul Roderick
Director of Operations – Since 1996
If Denali National Park was a 3D chess game, Paul would be the Bobby Fischer of the Park. He always knows where it's good to land, where all the climbers are and at what point they are in their climb. He began flying when he was twelve and started with Talkeetna Air Taxi in 1992 before he took over in 1996. Paul loves to be outside, preferably skiing or climbing with his family.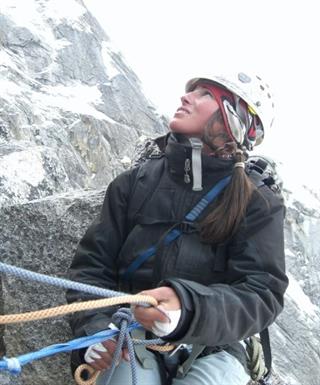 Leighan Falley
TAT Pilot – Since 2015
Leighan is an Alaskan local, growing up in Fairbanks.
She was locally trained as a pilot right here in Talkeetna and has been flying around the Alaska Range for 14 years!
Previously she has worked as a mountaineering guide here in Talkeetna and is one of the few people to make it to the summit of Denali twice within six days. Leighan is also a great artist, her favorite medium is acrylic landscape.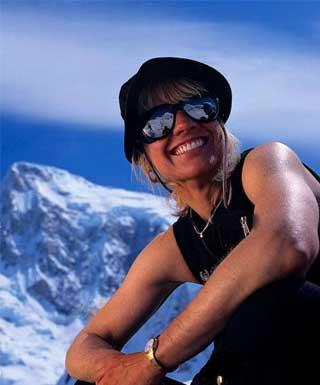 Annie Duquette
General Manager – Since 1999
Annie began her career in Talkeetna working for all the Air Taxis as the "Base Camp Manager", living on the glacier for 2 ½ months per year.
After 10 years as Base Camp Manager, she decided to move into the role of General Manager for Talkeetna Air Taxi, where she ensures that Customer Service is never compromised. Annie has experienced many different facets of life, working as a dental hygienist, lead flight attendant, EMT, bass player in a band, and in Antarctica before coming to Alaska.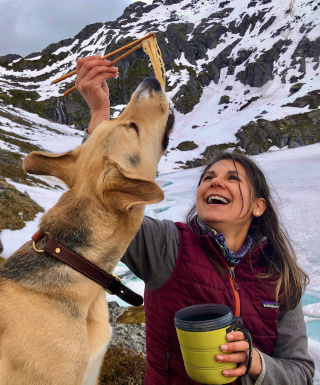 Courtney Shaffer
Office Manager – Since 2017
Originally from Pennsylvania, Courtney joined us for seasonal work. Inspired by the power of the landscape and the hearts of her TAT coworkers, she returned each season. She adores her puppy, Banff. An avid lover of the outdoors, you can frequently find Courtney & Banff gardening, hiking, camping & adventure seeking. Courtney's held numerous roles at TAT, most recently accepting the position as our Office Manager.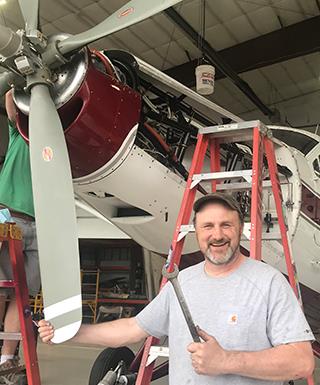 Chris Campbell
Director of Maintenance – Since 2010
Mechanic Chris is originally from Maine where he began his maintenance experience. He rode his bike to the local airport to help and observe. He tunes pianos and builds guitars in addition to working on aircrafts. He enjoys hunting, fishing and flying his 1968 Cessna 180 around Alaska.
Chris spent over 20 years in Kodiak before coming to Talkeetna.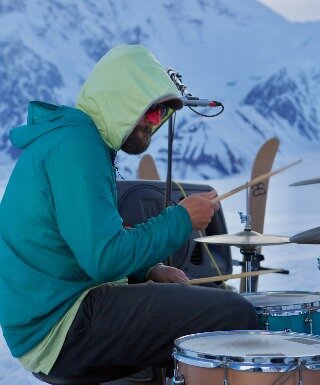 Butchy Fuego
Ramp Boss – Since 2017
Butchy is our boss of the ramp and has been with TAT since 2017. He is a proud father and family man. When not taking care of ground operations or spending time with his family, he enjoys all that the Alaska Wilderness has to offer: climbing, backcountry skiing and packrafting. Butchy is also a musician and his band, Artificial Horizon, has played shows in various remote settings; Kahiltna Glacier at Denali Basecamp & on a floating stage in the middle of a lake with the audience in boats.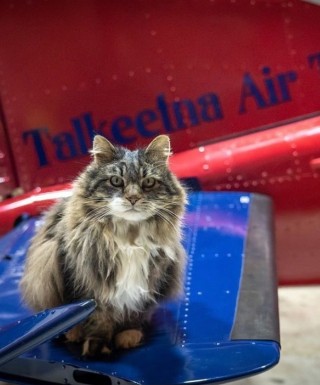 Beaver
The Hangar Cat – Since 2004
Beaver can be found catting around TAT, running pilot meetings, mousing, or lounging in the sun soaking up the rays.
Watch out when he is in stalking mode – Seriously.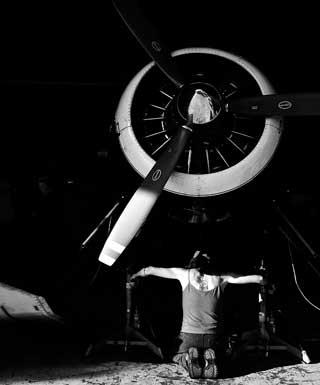 Danial Doty
Maintenance – Since 2003
Flew into Talkeetna in 2001 and so began her love for Denali National Park, skiing, climbing and adventuring.
The former Chief of Maintenance for TAT became the Chief Pilot to get more sky time, and is now trained in the R-44 helicopter.
When she's not flying for TAT, you'll see her elbow-deep in her current building project, prepping for a ski trip in a remote location, or flying pieces up to complete her ridge-top getaway.
If Danial can't do it, it probably can't be done!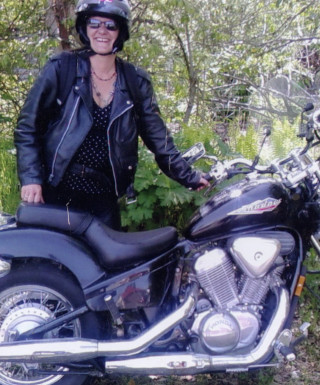 Amy Huffman
Hospitality Specialist – Since 2016
Born and raised in Pittsburgh, Amy made her way to Alaska from Michigan in an motorhome in 1997. On her days off she can be found with her family gardening or out cruising on her motorcycles. Amy goes the extra mile to ensure everyone has a great trip to Talkeetna. The skies are VFR and the Fun Meter on High when Amy is around.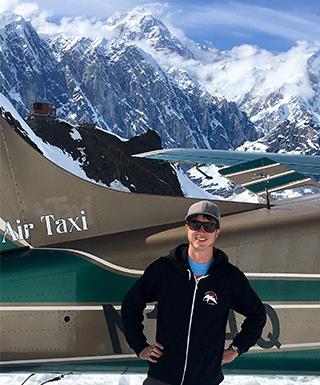 Matt Bethke
TAT Pilot- Since 2018
Cheery, curious, and health conscious— Matt received his pilots license in Hawaii and has gained experience by flying around Western Alaska and the Alaska Range. He enjoys many adventurous activities such as snowboarding, rock climbing and traveling. Matt has two babies, his personal plane (a Taylor craft) and his golden retriever, Noli.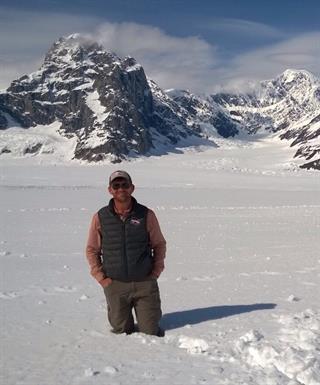 Clay Dillard
TAT Pilot- Since 2015
Before joining the TAT Team, Clay spent a year and a half in Africa flying and working with Doctors without Borders.
He converted a Dodge Sprinter into a home for three years here in Alaska before building a house.
Originally from South Carolina, Clay came to Alaska nine years ago and has enjoyed exploring the outdoors from the air and on the ground since!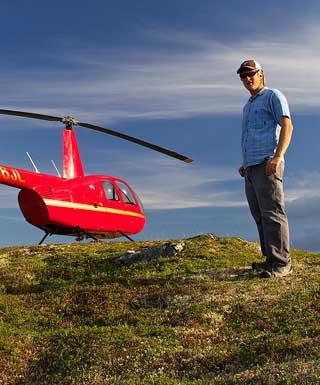 Will Boardman
Chief Pilot- Since 2006
Flying Denali National Park since 2004.
He often goes off gallivanting in the far stretches of the mountain ranges of Alaska to ski and climb. You can catch him paragliding too…. If you're real fast.
Will has become our R 44 Helicopter expert finding new places for new adventures.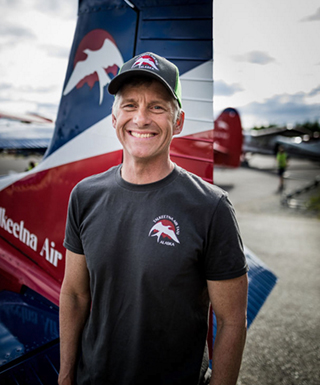 Nick Lamoureux
TAT Pilot – Since 2019
Originally from Maine, Nick has been enjoying the last few decades in Colorado and Utah, beginning with Outward Bound and later transitioning to flying. His interest in flying was sparked when our pilot Paul gave Nick a ride to Kantishna for his climbing expedition on Denali in '92. Nick has spent the last 14 years flying Cessna 172s, 207s, Kodiaks, and a Waco Biplane in Moab, as well as teaching backcountry flying before coming to Talkeetna. His personal plane is a Maule M-4, and he has a young dog and an old cat. Fun fact: Nick has built two of his past homes, both located in Colorado. Fun fact #2: to make Nick's favorite food list, it's got to be grilled.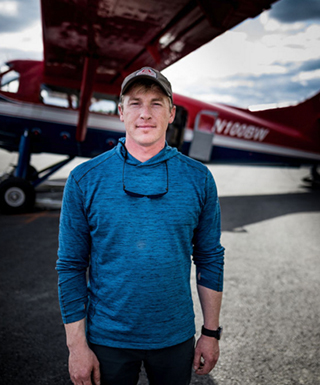 Andrew Beale
TAT Pilot – Since 2019
Andrew is originally from Virginia and spent 4 years in the Marine Corp. He has flown cargo and charter passengers around Alaska, and has flown resort passengers in and out of the Wrangells in eastern Alaska. He enjoys snowboarding, mountain biking, and fishing. Andrew grew up working at an electric company and is an expert at fixing IT problems!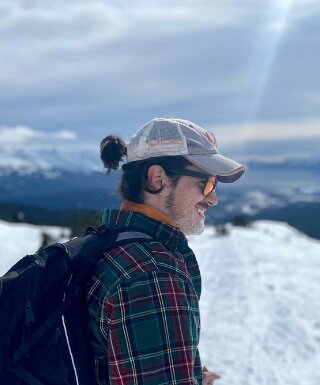 Wesley Buehler
Ramper – Since April 2021
Originally from Western New York, Wesley moved to Alaska in 2018 looking for a brief change of scenery. That brief change quickly turned into a love for Alaska and a permanent move to the state. Always up for a new adventure, Wesley can be found spending his free time running, biking, skiing, skating, and exploring new areas and activities.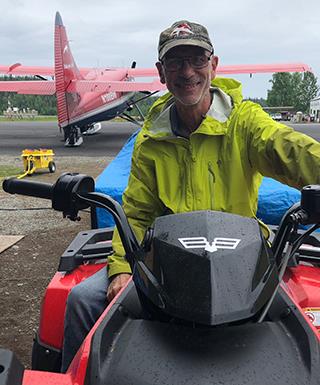 Dennis Hospodar
Ramper Extraordinaire – Since 2011
This PA native is always around to lend a hand getting climbers organized and shuttling them where they need to be.
Dennis enjoys living in Alaska and has been tethered to the quaint small town of Talkeetna where he loves the pure beauty of nature.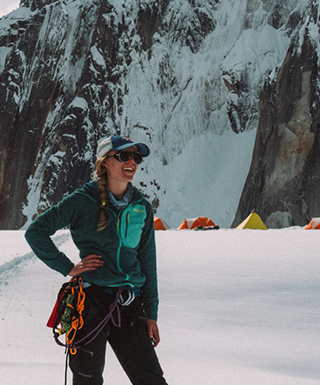 Ayla Loper
Scheduler – Since 2013
Ayla grew up in Talkeetna but has spent recent winters in Colorado and Montana. She enjoys running, skiing, traveling, spending time with her little siblings, reading and many other hobbies when she isn't working!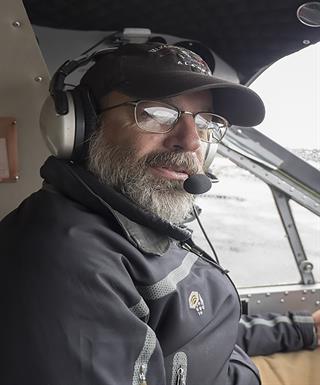 Andy Young
TAT Pilot – Since 2015
Andy operates his own flight seeing business in the Rocky Mountains out of Boulder, Colorado in the winter.
Concurrent with his career in flying he spent 20 years working in the Antarctic and 15 years on the Juneau Icefield in support of scientific research.
Andy joins the list of TAT staff that have made it to the summit of Denali, climbing it himself in 1993!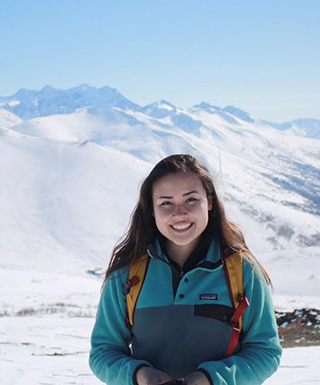 Karo Germain
Reservations – Since 2016
Karo is a born and raised local. During her winters, she attends New Mexico State in El Paso, New Mexico, just an hour from the border. Karo intends to return to Alaska for graduate school and possibly for even longer, as she loves the outdoors. This passion runs in the family; her dad used to guide climbing expeditions on Denali starting in '82 and continues to call Alaska home. Karo has one cat named Lucky and her hobbies include long boarding, cooking, and sketching landscapes!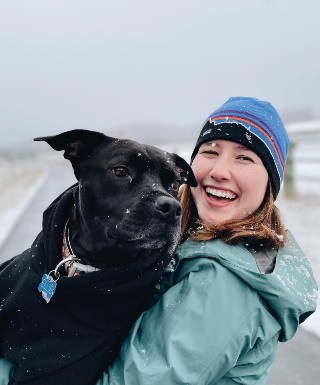 Mazie Booth
Social Media Manager & All-Around Office Girl – Since May 2021
Born and raised in Florida, Mazie made her way to Alaska in the spring of 2021. She fell in love with Talkeetna very quickly! In her free time she enjoys hanging with her fur baby (Ellie), listening to true crime podcasts, and exploring Alaska one flight at a time with her other half, Layton.
Fun Fact: Mazie hopes to complete her first helicopter training flight in the near future.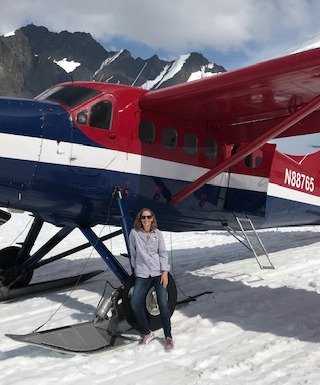 Amanda Farley
Marketing, Advertising and Reservations – Since 2017
Amanda came to Talkeetna Air Taxi after being poached from the local DMV by our General Manager Annie. Her excellent customer service made her a perfect fit for TAT. Amanda grew up in Maine, went to college in New Orleans (where she met her husband while working on a riverboat), and has lived in England (where her daughter was born) and a handful of southern states before moving to Alaska permanently in 2016. She enjoys reading, traveling, and snuggling her 18 year old dog Finney.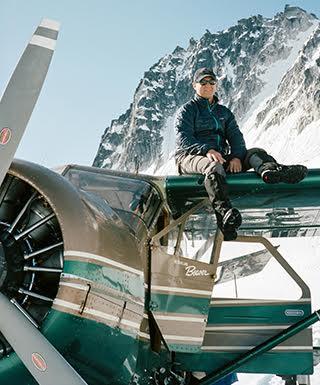 Kris Peterson
TAT Pilot – Since 2015
Kris joins us from Kodiak Island, where he flew from 2008-2015 and returns in the winters.
He was brought to our neck of the woods by his interest in fly-fishing, back-country skiing and, of course, aviation. He is a third generation pilot after his Dad and Grandpa and began flying at 17 years old. Kris also speaks German!
Kris is a "Hangar Ping-Pong" enthusiast on rainy days here at TAT.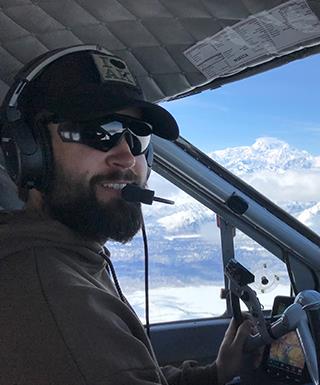 Alex Land
TAT Pilot – Since 2013
Alex learned to fly at an early age and began his training in aerobatics.
Getting another style of flying under his belt, Alex came up to Alaska from Georgia to master the art of ski-planes.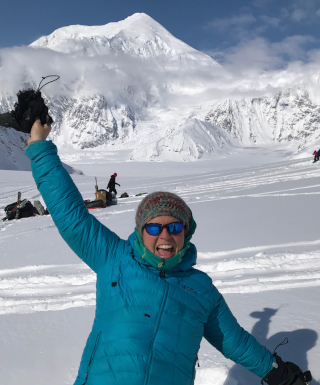 Heidi Knudsvig
Scheduling, Climbing Logistics and Weather Witch – Since 2018
Heidi came to TAT in March of 2018 where her ability to accurately forecast the weather quickly made her indispensable!
Heidi spent her first year in Alaska working for Mitch Seavey's IdidaRide as a dog handler, helped with a dog team in Willow, and manned the ticket booth at Alyeska before coming to Talkeetna with her retired sled dog, Oleda.
Her greatest professional accomplishment since joining TAT is that she has become Beaver the Hangar Cat's favorite human in the office.